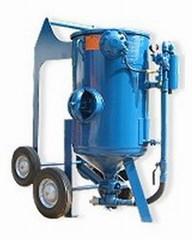 Finish Removal System
$6282.00
*Call to order



The Blaster-Buddy finish removing system is the easiest and safest method of removing old finishes from your log home. Your home will be clean, dry and ready to apply beautiful new coats of Lifeline stains and finishes.

The Blaster-Buddy system weights approximately 450 pounds and is four feet high. It comes with 50 feet of hose, a remote control unit, an instruction manual, and a safety kit that includes gloves, earplus, dust masks and a faec shield with headgear.

Features and Statistics
Environmentally friendly
No water is used - no water gets into your walls
No caustic strippers and no chemicals
Clean up is simple - residual materials are bio-degradable
Once blasting is completed, you are ready to apply a preservative or stain
The abrasive media used by the Blaster-Buddy is specially sized corncob grit. The low mass and high velocity of the grit striking the surface removes the finish with minimum damage to the wood. The Corncob Blast Media comes in two sizes, fine for most stain removal jobs and medium for difficult jobs. Both sizes are available in 40-pound bags.
One bag will typically clean about 75 to 200 square feet of surface area depending on the condition of the finish to be removed, age of the wood and wood characteristics.
If you would like more information or need a referral to an experienced contractor, or ready to place an order, contact the Log Home Center & Supply.