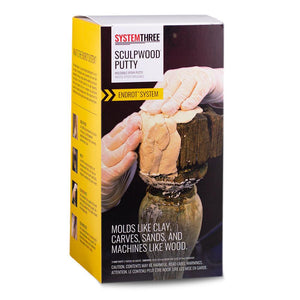 Sculpwood Putty
SculpWood Putty is a two-component, solvent-free, kneadable epoxy. It is moldable, carvable, lightweight, strong, and exhibits excellent adhesion to a variety of substrates. It is easily sanded and will accept paint, screws and nails.
Use to replace rotted or chipped away wood; cracks and other cosmetic defects in window and door sills, frames, railings, furniture, etc.
Will not shrink or become brittle after curing.
Features a convenient 1:1 mixing ratio.
Resin and hardener are easily mixed by hand.
Can be easily shaped and tooled: will not slump or sag. Once cured can be sanded, carved or machined.
Can be primed and painted to match an existing finish.
Once cured will hold fasteners, nails, screws, etc.
Part of the EndRot Wood Restoration System by System Three for permanent, non-structural repairs to rot and insect damaged architectural components.